"The best way to find out if you can trust somebody is to trust them."

—Ernest Hemingway
On December 13, 2020, former secretary of state George Shultz turned one hundred years old. On that day he published an essay musing over what he had learned across a century of living, and a career that included serving three US presidents. He concluded that in all of his varied experiences—businessman, diplomat, economist, professor, husband, father, athlete, and war veteran—one lesson surfaced above all others.
Put simply, Shultz wrote, trust is the coin of the realm. When trust was in the room—whatever room that was—the family room, the schoolroom, the coaches' room, or the military room—good things happened. When trust was not in the room, good things did not happen. Everything else is in the details.
* * *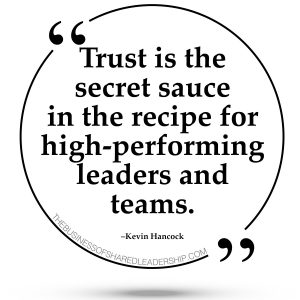 I've pondered this well-earned piece of wisdom multiple times since reading Mr. Shultz's reflections. When I reexamine my own life, his conclusion has held true in every circumstance. Trust, it seems, is the secret sauce in the recipe for high-performing leaders and teams.
So how do you build trust? And, equally as important, how is trust eroded?
I often write about my time on the Pine Ridge Indian Reservation and my learnings there. Pine Ridge is a place where distrust in government runs deep. That distrust was earned by repeated acts of betrayal, broken promises, and a lack of follow-through on the part of American political leaders and their operational bureaucrats.
At Pine Ridge there is also an additional layer of historic distrust toward people who are white. This too was earned. For nearly a century white people from away came to reservation communities like this one with the intention of "remaking" Indians in their own image.
In both cases trust was broken by the group with the most influence, control, and power. Once broken, trust can take lifetimes—even generations—to restore.
Today, however, there are many people at Pine Ridge who trust me, and I trust them in return. How was that trust established in the wake of such a dubious trail?
The answer? Direct, personal, and sustained connectivity. I ate, slept, and hung out there over and over and over again. In return, people invested their time in me. Eventually, trust was established.
"I can see you have a good heart," my now dear friend Catherine Grey Day said to me after our fourth visit together. Today she calls me "Misum," or "little brother."
Distance breeds unfamiliarity, and that can manifest as distrust. If I do not know you personally, I will likely default to the historical experiences of my community.
Perhaps the most intriguing yet debilitating aspect of trust and distrust is that you can almost always prove you are right.  There is almost always an available reason to be distrustful.
* * *
In the past ten years Hancock Lumber has been fortunate to experience sustained success. We've established new performance records and then reset them multiple times.
Beyond good fortune, what would I attribute this to?
Trust.
For seven years in a row we have been one of the Best Places to Work in Maine. In each of those years we broke our own records for sales, productivity, and profitability.
So which came first? Did the high performance create a best place to work, or did becoming a best place to work enable the high performance?
For those of us who have been there, the answer is clear: It was focusing first on the employee experience that subsequently created the corporate performance surge.  Trust within the organization among the people who worked there came first.   
In high-performing companies, employees do not expect everything to be perfect. Everyone knows there will always be new challenges to overcome and problems to work through. But they trust that through it all the company will prioritize them. They trust that the company will not put its own needs before theirs. In return, the employees lift up the company and teach it to soar.
So yes, upon reflection, George Shultz's wisdom has proved to be true in my life. At both Pine Ridge and Hancock Lumber, trust has in fact been the coin of the realm, and a currency first forged from within.
We must learn to trust our authentic selves before we can be deemed trustworthy by others.
"Have enough courage to trust love one more time and always one more time."

—Maya Angelou

Thank you for considering my thoughts. In return I honor yours. Every voice matters. Nestled between our differences lies our future.
* * *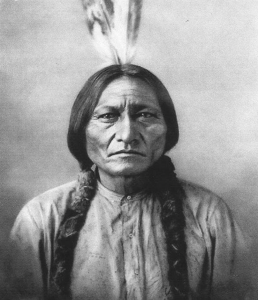 "They made us many promises, more than I can remember, but they never kept but one; they promised to take our land, and they took it."

—Sitting Bull
__________
This is the twenty-sixth in a series of short essays to be posted by Kevin Hancock to www.thebusinessofsharedleadership.com in 2021, in honor of Black Elk, the Oglala Sioux holy man who was escorted as a child on a sacred vision quest by the 48 horses of the four directions to visit the six Grandfathers. My horses, prancing they are coming. They will dance; may you behold them. On that journey Black Elk understood the sacred power that dwelled within him and lives within us all. He also recognized that this power could be used for good or bad. Intentional we must be about the path we walk. To receive future posts from Kevin, simply click here. This will trigger an e-mail where you can confirm and subscribe. Thank you!