"For it is dangerous to attach one's self to the crowd in front, and so long as each one of us is more willing to trust another than to judge for himself, we never show any judgement in the matter of living, but always a blind trust, and a mistake that has been passed on from hand to hand finally involves us and works our destruction."
—Seneca
* * *
On March 12, 2020, a US Navy reservist, returning from duty in Italy, became the first COVID-19 case in Maine. Three days later the governor declared a civil state of emergency. Businesses closed. Society froze.
Meanwhile, our company, Hancock Lumber, had hundreds of employees deployed across fourteen locations all asking the same question.
What does this mean for us?
* * *
It turns out that the people of Hancock Lumber would have a far different COVID-19 work experience than most Americans.
As a deemed "essential" industry, we never closed, and, due to the nature of our enterprise, we never worked remotely.
"We still haven't figured out how to make lumber from our couch in sweatpants," I frequently told inquirers in the months that followed.
Ours is an industry where you have to be there in person, or else, you're closed—and you can't take turns showing up. A sawmill backs up quickly if any single work station goes idle. The Hancock Lumber team of humans faced a pretty simple choice: We all work, or none of us works.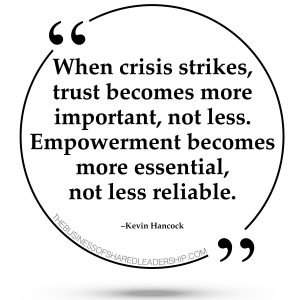 In overwhelming numbers, our people chose to keep going. At the core of this decision was an unspoken understanding that blue-collar employees across America intuitively recognize: My company needs to run in order for me to get paid. I need to show up not just for myself, but for my fellow workers and their families. There was no thought in that moment that anyone other than us was coming to the rescue.
So what was that like, working—every day, on location, next to each other—during COVID?
Well, it wasn't simple, but it also wasn't complicated. At that time there was no "guidance" from state or federal capitals, nor did we look for any. No one knew our business like we did. As is customary in our leadership model of dispersed power, we would keep the rules to a minimum. Trust in the judgment of individual humans would be our power source.
Working through COVID demands one great commitment: Everyone must lead. Viruses travel one human at a time.
So we went to work with four essential guideposts: Spread out; keep it clean; stay home if you're sick, anxious, or caring for another; and trust everyone to implement these values in their respective corners of our company. We gave everyone extra sick days. Additionally we gave everyone quarantine days, should they be needed.
Over the next twelve months, we would collectively:
make 18,000 construction site deliveries
produce 90,000,000 board feet of lumber
design, build, and deliver 76,000 trusses
make over 20 miles of wall panels
execute 250,000 in-store customer experiences
Together we logged (no pun intended) 1,200,000 on-site work hours from March 2020 through February 2021.
And what were the COVID-19 results?
Our employees—565 people, sharing responsibility collaboratively at Hancock Lumber—acquired 30 known cases of the virus. Of those 30 cases, 29 were confirmed as "contracted at home" (meaning, in their personal life, away from work). A single case of COVID was confirmed as "contracted at work." Our group was 29 times more likely to acquire COVID at home than at work.
* * *
Ultimately our state government would issue detailed rules for work during COVID. While well-intended, the problem with this approach is always the same. Out goes innovation, accountability, and continuous improvement made possible by the collective creativity that only surfaces when everyone leads.
I have a friend who runs a small hair salon. One day (with a sense of impending dread) I read the six pages of COVID regulations she had been issued. The mandatory guidance covered everything from appointment scheduling, store signage, and training requirements to capes, smocks, neck strips, soap use, and disinfectant spray—from gloves, drapes, linens, eye coverings, and laundry to tools, porous surfaces, Barbicide, and food stations. It also covered magazines, service menus, cash registers, cloth chairs, leather chairs, trash bins, credit cards, telephones, and parking lots. All of this represented a missed opportunity to empower and share leadership.
When crisis strikes, trust becomes more important, not less. Empowerment becomes more essential, not less reliable.
In dire times trust is paramount, and it only manifests through the willingness of established leaders to show restraint—not to write the entire script on what to do and how to do it.
* * *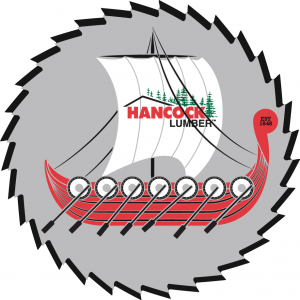 One day during the early phase of the pandemic, a team leader at our Casco mill shared a video of an iconic moment of disaster defiance from the movie Forrest Gump.
In this scene Lieutenant Dan climbs atop the highest mast of their shrimp boat to stand before the hurricane's wrath.
"You call this a storm?" Lieutenant Dan proclaims as the vessel is pounded by wind and rain. "I'm right here. Come and get me! You'll never sink this boat."
COVID decimated certain industries; we were simply fortunate enough not to be among them. But beyond luck, what got us through? It was trust. Trust that shared leadership held more potential in a storm than a set of rules from above.
"He who does not trust enough will not be trusted."
—Lao Tzu
* * *
(Note: Here is a link to the scene where Lieutenant Dan and Forrest, alone and without hierarchical supervision, defy and defeat the storm. That's the Seventh Power, and it lives within us all.)
* * *
Thank you for considering my thoughts. In return I honor yours. Every voice matters. Between our differences lies our future.
____________________
This is the eighteenth in a series of short essays to be posted by Kevin to www.thebusinessofsharedleadership.com in 2021. Kevin is dedicating these writings in honor of Black Elk, the Oglala Sioux holy man who was escorted as a child on a sacred vision quest by the 48 horses of the four directions to visit the six Grandfathers. My horses, prancing they are coming. They will dance; may you behold them. On that journey Black Elk understood the sacred power that dwelled within him and lives within us all. He also recognized that this power could be used for good or bad. Intentional we must be about the path we walk. To invite others to join The Business of Shared Leadership and receive these posts, just pass this link along. The more who join, the deeper the energy field of engagement will become! Thank you!