2021 IDEA-SHARING ADVENTURE SERIES BY KEVIN HANCOCK
"Well, I'll be darned," Walt said to Jimmy from the driver's seat of the truck.
"Yes," Jimmy replied from the passenger side. "They stock those filters at AutoZone down in Elko and sell them for eight bucks apiece."
"I did not know that," Walt said, clearly amazed.
From the backseat I checked the clock on the dashboard. It read 3:50 a.m. I adjusted my camouflage Gore-Tex gloves, pulled my wool cap down tighter over my ears, and settled fully into my seat as the dust swirled behind us into the blackness of a Nevada night. I drifted off to sleep to the rumbling of six tires careening over the road as Walt and Jimmy conversed with exceptional enthusiasm over stories great and small.
For the next five days this would become our morning ritual, Walt and Jimmy's banter a transcendent reminder of the joy of being present.
*        *        *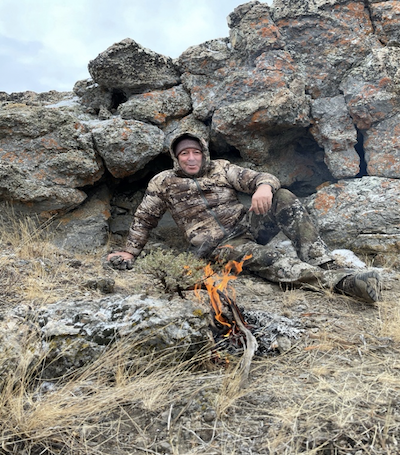 Elk hunting for me is simultaneously energizing and draining, joyous and mundane, heartwarming and discomforting.
There's no way we're going to get an elk on this hunt, I thought.
I was huddled by a small fire on a rock-strewn mountaintop staring out across a vast expanse of treeless wilderness from which I could see both Idaho and Utah. I shivered, even though I was wearing everything that I had brought with me in my meager defense against the snow, wind, and cold.
"Welcome to Nevada ice fishing," Jimmy said with a smile.
*        *        *
Elk hunting in a remote corner of the American West commands surrender, and this perhaps explains part of my addiction to the sport. As a CEO I am used to identifying a goal and making a plan. Action steps are listed and crossed off when completed. Timelines are established. Meetings are set to monitor progress and make adjustments if needed. The whole process is about increasing certainty and establishing control.
A guided elk hunting trip requires the exact opposite. It begins with surrender. To have any chance of success you must transcend the urge to structure and define your day.
Upon arrival you learn to cede virtually all control except your willingness to hustle and keep hunting even when the odds seem insurmountable. Until the experience is over someone else (your guide and outfitter) will decide where you sleep, when you awaken, when and what you eat, where you go, when you drive and when you walk, when and where you sit and wait, and when you attack.
If you want to maximize your odds of success you arrive ready to trust a small team of people that you have never met, and may never meet again. It's an extreme test of one of life's most difficult rules:
Learning to surrender is a prerequisite for finding your highest success and authentic path.
I have come to describe this state of being as learning to follow. Our future bumps into us all the time, but often we are too fixated on a predetermined march through a fully planned day—or life—to embrace the unexpected and follow along.
If an angel had told me in 2010 how the next decade of my life would unfold, I would not have believed the storyline.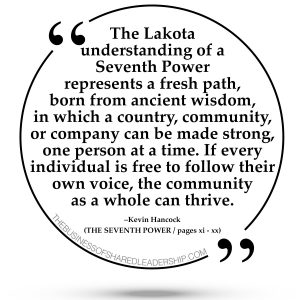 The economy would crash not once, but twice. I would lose a piece of my voice to a rare neurological disorder and then set out from Maine for the Pine Ridge Indian Reservation, where I would make over twenty visits and acquire two Lakota names. All of this would ignite my understanding that truth lies within us all, which would move me to rewrite my personal rules for organizational leadership through the honoring of every human voice. This, in turn, would plant the seeds for the three books that I would write, all while our company would set records on the wings of employee empowerment and dispersed power. The more I let go, the better we did.
I didn't see any of this coming.
I couldn't have scripted it.
I wouldn't have been able to manifest any of this had I been determined to stay on a preset path and maintain tight control.
Surrender was required. Knowing was unknowing.
Like climbing into the backseat of Walt's truck in total darkness, any hope for a successful hunt rests in complete surrender.
*        *        *
I did shoot a very big elk on our last afternoon of that trip, using a rifle that jammed after a single shot on a remote ridge known to the locals as "China Jim." I never would have ended up in that spot at that moment if I hadn't surrendered to Walt and Jimmy's accrued experience, a lifetime of knowing elk.
"We must be willing to get rid of the life we've planned, so as to have the life that is waiting for us."
—Joseph Campbell
* * *
Thank you for considering my thoughts. In return I honor yours. Every voice matters. Between our differences lies our future.
____________________
This is the fourth in a series of short essays to be posted by Kevin to www.thebusinessofsharedleadership.com in 2021. Kevin is dedicating these writings in honor of Black Elk, the Oglala Sioux holy man who was escorted as a child on a sacred vision quest by the 48 horses of the four directions to visit the six Grandfathers. My horses, prancing they are coming. They will dance; may you behold them. On that journey Black Elk understood the sacred power that dwelled within him and lives within us all. He also recognized that this power could be used for good or bad. Intentional we must be about the path we walk. To invite others to join The Business of Shared Leadership and receive these posts, just pass this link along. The more who join, the deeper the energy field of engagement will become! Thank you!