2021 IDEA-SHARING ADVENTURE SERIES BY KEVIN HANCOCK
In the first decades of the twenty-first century, three exceptional yet unforeseen events altered humanity's course.
On the morning of September 11, 2001, al-Qaeda militants hijacked four airplanes. Within hours the twin towers of the World Trade Center would fall and a global war would commence. In 2008, subprime borrowers began defaulting on their home mortgages, initiating a financial crisis that nearly collapsed the entire global banking system. In late 2019, a small group of shoppers at a wet market in Wuhan, China, became infected with a virus of unknown origins. Within a hundred days, nearly every nation on Earth was partially paralyzed by gathering restrictions and lockdowns.
In times of such epic social disruptions, how do we stay focused on our personal mission and voice? How do we support the whole while advancing our sense of self?
Maintaining one's personal energy in a sea of social chaos may be the essential skill of our time.
Every voice is unique by design. The long arc of humanity is ultimately the sum of its individual parts. What society needs most from us is for our never-to-be-repeated voices to be unfurled and broadly shared. We change the world one human at a time.
I was sensitized to the importance of authentic voice and personal mission by yet another combination of unexpected events. In 2010, I began to have trouble speaking. I was the CEO of one of America's oldest family businesses, and our lumber company was reeling from the stress of the economic crisis when my voice failed me. Months later I was diagnosed with a rare neurological disorder called "spasmodic dysphonia" (SD). Suddenly, I had to develop a new strategy for leading that did not include lots of talking.
Two years later, I began traveling from Maine to the remote Pine Ridge Indian Reservation in South Dakota (a place I have now visited over twenty times). There I encountered an entire community that did not feel fully heard.
These two events combined to produce a series of personal learnings. First, I understood what it was like to not feel fully heard. Second, I realized there are lots of ways for people to lose their voice in this world. Third, I began to wonder if the very purpose of a human life on Earth is to self-actualize.
Unfortunately, across the centuries many leaders have done more to restrict the voices of others than to liberate them.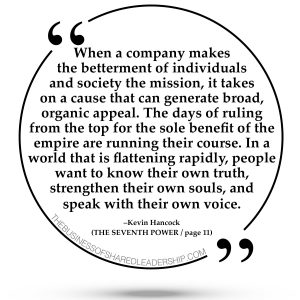 That's when my personal calling became clear. The partial loss of my own voice was an invitation to disperse power, share leadership, and strengthen the voices of others. I have stayed focused on this mission ever since, despite the distractions of the larger world.
Influencing the world is an inside job. You have a mission and that mission matters. Only you can pursue it. Humanity needs you to be you and carry on. With this approach the world morphs into a different place. It slows down, gains clarity, and localizes.
The history-altering events described at the beginning of this essay share a single root cause: Humanity is moving too fast to acquire more. Our pace—you might call it our "race"—is unsustainable. In the Western world's zeal to conquer and colonize we find the underpinnings of radical Islamic instability and terror. The subprime mortgage market collapse was also the result of impatience and excess on all sides. Speed was equally responsible for accelerating the global pandemic. How many customers can be crammed into an airplane, a stadium, a bar? Bigger, better, more. We all drank the Kool-Aid and now here we are.
Once we recognize the cause of our chaos, we can hone in on the cure. The world as seen on TV manifests as overwhelming. Only by returning to what lies within us and beside us can we clear the skies. Staying on your mission is the remedy to the turmoil that plagues our modern world. So for the love of humanity, follow your voice. Walk your path. Speak your truth.
If excessive pace with vague purpose is the problem, controlling your pace and clarifying your purpose is the cure.
(Note: A longer version of this essay was first published in 2020 as part of the international bestseller "Bright Spots: Motivation and Inspiration to Light Your Path in a Changing World" by Cathy Davis. This book—a collection of essays written by forty authors from around the world, including Kevin, in response to the events of 2020—is available on Amazon, or wherever books are sold.)
* * *
Thank you for considering my thoughts. In return I honor yours. Every voice matters. Between our differences lies our future.
____________________
This is the third in a series of short essays to be posted by Kevin to www.thebusinessofsharedleadership.com in 2021. Kevin is dedicating these writings in honor of Black Elk, the Oglala Sioux holy man who was escorted as a child on a sacred vision quest by the 48 horses of the four directions to visit the six Grandfathers. My horses, prancing they are coming. They will dance; may you behold them. On that journey Black Elk understood the sacred power that dwelled within him and lives within us all. He also recognized that this power could be used for good or bad. Intentional we must be about the path we walk. To invite others to join The Business of Shared Leadership and receive these posts, just pass this link along. The more who join, the deeper the energy field of engagement will become! Thank you!