SSCA Workshop
"I would recommend this workshop to any business leader that wants to drive organizational excellence and profit through empowering their employees to be the engines of growth and change." – Adam Russin, Co-President of Russin Lumber
The Business of Shared Leadership Program pivots leaders from a top-down business model toward a values-based organization, making the betterment of individuals and society their mission. This exclusive, one-of-a-kind program, designed by Kevin Hancock and SSCA, is designed for successful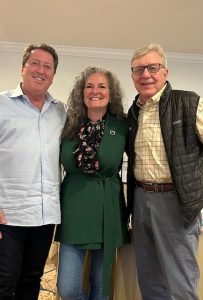 executive leaders who want or need an innovative approach. This program creates a mindset shift, choosing new behaviors to get a different outcome. This program includes pre-work, a comprehensive workshop, multiple one-to-one sessions with leadership consultants, and a follow-up process.
The program is based on the concepts of Kevin's book, The Seventh Power, and his real-life experience transforming Hancock Lumber's work culture. These ideas and experiences are paired with SSCA's teachings which apply behavioral science to corporate and personal change creation. Together, the program is giving leaders a "transformational" outlook on the role they can and will play in their organizations.
Next program date: October 23-26, 2023
3.5 day workshop
Intensive pre-work (including outside reading and three virtual pre-meetings before the live session)
Continued virtual, cohort learning for six months after the program to support the "real world" implementation of your mission.
If you or any leaders in your life would benefit, see program details, cost, and enrollment here.
"No words can describe how much this week meant to me as a leader. I've already communicated it to one important person in my life and got goosebumps when I did. I felt so comfortable communicating what I was missing as a leader and what different looks like for me next." – Chris Mundy, President at Superior Thread Rolling
Hire Kevin To Speak
Shared leadership, employee engagement and healing from within are just a few of the engaging topics Kevin speaks about. Learn more about hiring Kevin for your next event.