"To have a comeback you have to have a setback."
—Mr. T
Falmouth High School—January 1983. I jump for a rebound. The next thing I know, I'm lying on the court, clutching my right shoulder in extreme pain. I would learn an hour later at the hospital that I'd dislocated my shoulder.
Shoulders are pretty important for basketball. As it turned out, I would miss the final month of my junior-year season before rejoining the team for a deep play-off run.
Deering High School—November 1983. It's the last quarter of the final preseason game of my senior year. My team (Lake Region) secures a rebound and we're off on a fast break. I am ahead of the pack and my brother lofts a strong and accurate pass my way. I jump to catch it on the run. The next thing I know, I'm lying on the court, clutching my right knee in extreme pain.
I would learn three days later that I had a complete tear of my ACL. Knees are pretty important for basketball. Surgery was next. I would miss my entire senior season.
Bowdoin College—February 1987. Morrell Gymnasium is full as it always is for Colby vs. Bowdoin. The game is tied at 88 as the final seconds tick off the clock. Our point guard Chris has the ball out beyond the top of the key. I'm in the right corner behind the 3-point line. All the other Bowdoin players are on the left-hand side of the court. This is an isolation play. Either we score at the buzzer, or the game goes into overtime.
Chris penetrates the gap in front of me. My defender leaves for a split second to help. At that moment Chris passes me the ball. As soon as I've caught it I'm airborne, releasing my jump shot. Everything goes into slow motion and then the ball backspins its way through the hoop. It is my 30th point of the game, and Bowdoin wins, 91–88. Players and fans rush the court.
It is the pinnacle of my basketball comeback from not one but two devastating injuries.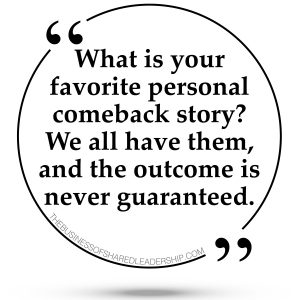 Between the moment of crashing to the floor at Deering High School with a torn ACL and sinking that shot in the final game of my junior-year season at Bowdoin came thousands of hours of rehab, recovery, and practice. Never during those three years was the result certain. Although the process was filled with setbacks, highs, lows, and lots of work, it never occurred to me to stop playing. That option never entered my mind. I was determined to be a multiyear college starter at Bowdoin, and with lots of help along the way, I pulled it off.
I have other comeback stories as well. Quite a few of them dot my life.
You have them too. Each one of them has explored and altered the universe. The meaning of the past and the trajectory of the future change every time a comeback occurs.
Setbacks are prerequisites for comebacks. There is no light without the dark. This is how human life on Earth is wired. The human experience is a never-ending dance between setbacks and comebacks, and it's how we embrace them that determines our course.
I do not know a single human life that has been nonstop smooth sailing. Some may look that way, but that's only because you are not seeing the full story. Every human life is a series of comebacks. If you think you've failed to prevail after misfortune, this only confirms that your comeback story is not over yet. There is no time limit. If you are alive, the comeback is still in play. It's never too late to make a move, and, conversely, it is never too late to have another challenge come your way.
Comebacks are an example of our oneness with the universe. The future is always being written, created, and designed by us. We are the future, and we are the past.
Comebacks do not just change the future; they can also change the past.
My knee injury was devastating in that moment. For a short time, I was despondent. I saw no good in it at all. Today, I look at that twelve-inch incision scar on my right leg and smile. That torn ACL was one of the very best things that ever happened to me. I grew and gained so much more from it than I lost. In this way, I changed the past. My knee injury went from being a curse to a blessing because of how I chose to respond to it. My approach to the future gave a different meaning and value to something from the past.
The setback is the opportunity.
There is no comeback without the setback.
The value of what's seemingly in the past is still to be determined—by you.
***
Thank you for considering my thoughts. In return I honor yours. Every voice matters. Nestled between our differences lies our future. www.thebusinessofsharedleadership.com